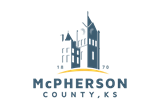 The McPherson County Commission will meet at 9 a.m. Monday in the Commission Meeting room, 122 W. Marling. The agenda:
9:00 a.m.
The following items will be discussed as time permits –
A. Approval of Agenda
B. Approval of Minutes
C. Checks and Claims
D. Adds and Abates
E. Personnel
F. County Building Door Locks
G. Addendum to 2021 Indigent Defense Agreement
H. General Correspondence
Public Input
9:05 a.m.
Sheriff Jerry Montagne –
A. Non-elected Personnel
B. Potential MOA-MOU-LOU Hutchinson Correctional Facility
9:10 a.m. John Verssue, Planning/Zoning/Environment Administrator –
A. Subdivision Case 2020-03, Navajo Road
9:30 a.m.
Discussion re: Transfer of Old Mill Museum and Park to a 501c(3) –
9:50 a.m.
Julie McClure, Director of Emergency Management/Communications – Disaster Declaration
10 a.m.
Shalei Shea, County Health Department Director – COVID-19 Vaccine Update
10:10 a.m. Undersheriff Skyler Christians –
Vehicle Equipment Purchase
10:20 a.m.
Tom Kramer, Public Works Director –
A. Bid Advertisement, Roadway Maintenance Materials (2021 Asphalt Oils)
B. Award Bid for the 2021 Milling Projects
Signature on Crosswalk Agreement with the City of McPherson (Northview & Hwy. Bypass)
D. Non-elected Personnel