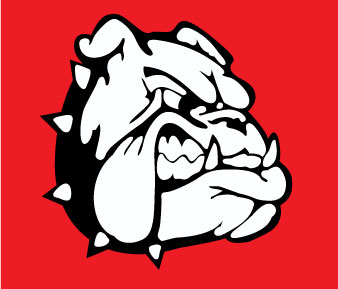 WINFIELD – After his McPherson High boys were lit up for 31 points in the first half by Winfield – which was 12 of 18 from the field and 6 of 7 from 3-point – head coach Kurt Kinnamon admitted it got a little warm in the locker room for the 10-minute break as his team was behind by 1.
The Bullpups came out with new intensity in the second half, holding Winfield without a field goal in the third quarter and just 2 points, before finishing off a 59-46 victory on Friday as they have a winning streak for the first time in more than a month as they've gone back-to-back to move to 9-8 on the season with three home games left next week.
"I thought we were really good defensively," Kinnamon said of the second half as Winfield was just 4 of 20. "We had a little fire and brimstone at halftime about how you can't give up 31 in the first half. Did a great job. I thought Seth (Madron) in particular kept the ball in front of him. I thought Jayden Dukes was tremendous and without question, Eli Pyle had his best defensive game of his career as far as keeping somebody in front of him."
The Bullpups didn't do much themselves offensively for the first 5 minutes of the third quarter, but finished on a 10-1 run to lead 42-33 and pushed it out to 16 before struggling to put the game away at the foul line by making just 9 of 21 from the stripe in the final quarter as they couldn't prove to Winfield coach Ben Ponce that they could make them as he went to a Hack-A-Bullpup strategy.
But overall, Kinnamon was happy, especially since his team is now alone in first place in AVCTL D-III at 7-1 as Augusta fell out of the first-place tie with a loss to Buhler, as both of those teams have two losses. MHS can wrap up no worse than a share of the title with a victory over Augusta here Tuesday, which comes on the heels of a Monday make-up game against Andale.
The second half gave Kinnamon hope moving forward.
"I liked how we were aggressive, we weren't tentative on shots," Kinnamon said. "Adam (Elliott) shot the ball when he was open. Seth, I thought was really aggressive. I'd just like to see him get one step closer and use his athleticism and jump over somebody."
Madron finished with 17 points while Jayton Alexander scored 12 and Elliott had one of his best games of the year with 11.
The MHS JVs came away with a 54-35 victory as Dawson Feil and Trey Buckbee scored 11 and 10 points, respectively.
McPherson's ninth-grade boys got right back on the horse after losing on Thursday to Hutchinson as they clocked the Vikings, 77-34. Five Bullpups scored in double figures, led by Kyden Thompson with 17. Owen Pyle, Alex Robertson, Kreighton Kanitz and Gavin Wedel all added 10.
MHS (59) – Buckbee 0-1, 0-0, 0; E. Pyle 1-7, 2-2, 4; Dukes 2-7, 3-8, 7; Madron 6-16, 4-10, 17; Elliott 4-8, 0-0 11; Alexander 3-8, 5-7, 12; Miller 2-5 0-0, 4; Gibbs 0-0, 2-4, 2; Alvord 1-1, 0-0, 2. Totals – 19-53, 16-31, 59. 3-pointers – Elliott 3, Madron 1, Alexander 1.
Winfield (46) – George 2-4, 0-0, 6; Harper 4-10, 2-2, 12; Yingling 3-7, 1-2, 8; Acosta 1-3, 1-2, 3; Moore 1-3, 0-0, 3; Beckwith 2-5, 1-3, 5; Towles 3-6, 1-3, 9. Totals – 16-38 6-12, 46. 3-pointers – George 2, Harper 2, Towles 2, Yingling 1, Moore 1.
——
MHS JV (54) – Buckbee 10, Feil 11, Backhus 2, Alvord 4, Malone 2, Kanitz 2, Becker 9, Miller 4, Ediger 6, Muehler 4.
—–
MHS 9th (77) – O. Pyle 10, Robertson 10, Kanitz 10, Thompson 17, Boese 4, Wedel 10, Alexander 2, Muehler 8, Schriner 6.