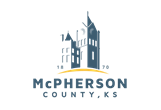 The McPherson County Commissioners will meet at 9 a.m. Monday in the Commission Meeting Room, 122 W. Marlin Street. The agenda:
9 a.m.
The following items will be discussed as time permits:
A. Approval of Agenda
B. Approval of Minutes
C. Checks and Claims
D. Adds and Abates
E. Personnel
F. General Correspondence
Public Input
9:10 a.m.
John Verssue, County Planning/Zoning/Environment Administrator – Case SU2021-01: Special Use request for a second residential unit on an existing property with an existing residential unit in the A-1 Agriculture District
9:20 a.m.
Shalei Shea, County Health Department Director – Approval of applications to KDHE for SFY 2022 Grants
9:30 a.m,
Julie McClure, County Director of Emergency Management/Communications –
Non-elected Personnel
9:40 a.m.
Tom Kramer, Public Works Director – Non-elected Personnel