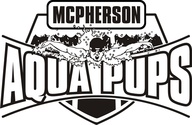 Here is McPherson Aqua Pups coach Kyle Banman's update about the team as it hosted a meet last week and is preparing for the postseason:
"It's hard to believe our regular season is done.  We hosted our "Last Chance" meet last Thursday evening and luckily the weather held off, and we were able to get that one final meet of the summer at the Water Park.
"We had a good handful make their competition debuts.  Kudos to Rudy Jensen, Logan Mendez, Eva Ramey, and Jameson Bowers for competing in their first-ever meet.
"We had 2 additional swimmers earn qualifying times for Districts – Lawson Ediger and Danae Paine both earned their cuts in the 50 Freestyle.
"A few of our qualifiers added some additional cuts for the District meet:
Gracy Hubbard added the 100 Back and the 100 Free cut
Pollux Morris added the 50 Back cut
Claire Schmidt added the 100 and 200 Breast
Rhys Vanderhoof added the 200 Free cut
"Of course we would love to have had a few more advance, but as a coaching staff, we couldn't have been happier with how the kids performed.  We had some who just barely missed getting that qualifying time, but they were still making substantial drops and displaying these tremendous improvements that they've made all summer long.
"To get your final meet of the season, and to cut multiple seconds on a 50 meter swim is a huge step, and a few of those swims, and a some of other events and drops that I'd like to highlight are:
Rhett Banning – 5.18 on 50 Breast, 4.19 on 50 Free
Oliver Bowman – 2.56 on 50 Back
Payton Wilson – 1.7 on 50 Breast
Lucy McAffee – 3.49 on 50 Free
Avah Parkings – 4.53 on 50 Free
Hayden Eveland – 1.52 on 50 Free
Bennet Rank – 3.26 and 3.08 on 50 Back and 50 Breast Respectively
Layla Rank – 2.39 on 100 Free
Hazel Wuertz – 1.14 on 100 Fly
Clarea Williams – 8.07 on 100 Free
Brayden Beckman – 4.43 on 50 Back, 2.46 on 50 Free
Asher Morales – 8.69 on 50 Free
Elin Schmidt – 4.64 on 50 Free
Sophia Rush – 1.4 on 50 Free
Cali Whitenack – 3.9 on 50 Back, 2.0 on 50 Fly, and 1.2 on 50 Free
Brinnley Robinson – 2.47 on 50 Free
Karleigh Lane – 4.68 on 50 Back, 8.42 on 50 Free
Libby White – 10.72 on 50 Free
Axel Walline – 7.5 on 50 Back, and 4.6 on 50 Free
Eleanor Walline – 9.3 on 50 Back, and 7.7 on 50 Free
Kurt Mendez – 2.32 on 50 Free
Emily Taylor – 1.1 on 50 Free
Avery Taylor – 1.1 on 50 Back
Taylin Wall – 3.4 on 50 Free, and 2.5 on 50 Back
Destannie Speer – 5.6 on 50 Back
"We've got 10 of our qualified swimmers going to Districts this weekend: Lawson Ediger, Gracy Hubbard, Claire Schmidt, Jordan Vanderhoof, Rhys Vanderhoof, Adyson Wiens, Danae Paine, Eli Farley, Pollux Morris and Emmy Yeakel.  The meet is held at the Wichita Swim Club, with events Friday-Sunday, and will feature swimmers from clubs all over Kansas, parts of Missouri, and a few clubs from Oklahoma.