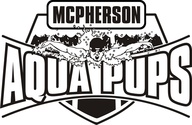 WICHITA – The McPherson Aqua Pups competed in the district swimming meet this weekend in Wichita. Here is coach Kyle Banman's summary:
"What a weekend at Districts in Wichita!  Typically, there are 2 District sites for Missouri Valley Swimming, but this year, there was only the one at Wichita Swim Club. So, with that this was a very busy meet, with swimmers from all over Kansas, about half of Missouri, and a handful from Oklahoma.  Our swimmers didn't seem overwhelmed by the moment, and just went out and competed hard every race!
"This was the first postseason meet for Jordan Vanderhoof, Lawson Ediger and Pollux Morris, and just the second for Emmy Yeakel and Danae Paine.
"Rhys Vanderhoof had already qualified for MVS Championships in Columbia, based on his high school times.  The HS State meet is a USA Swimming-sanctioned meet, so his 50 Free and 100 Free times earned him the spot. He was able to improve his 50 free time, however, on a time trial swim, where he earned the long course qualifying time at 26.19, which will improve his seeding going into champs.  Rhys also picked up the 100 breast and 100 back Champ Bonus times, and is now eligible to swim those in Columbia as well.  He placed 6th overall on 100 breast and 7th overall on 100 back.
"Eli Farley had a pair of nice cuts on 100 free and 100 back, dropping 2.39 and 3.86 respectively.  He had a top finish of 11th on the 50 freestyle where he was only .02 off his entry time.
"Pollux Morris overcame a DQ on 200 IM and had a monster drop of 6.24 on 200 free, took 0.6 off of 50 Bback and 1.22 on 50 free.
"Gracy Hubbard, after a huge improvement on her 100 back at our last home meet to earn her first qualified backstroke event, was just barely off of that time here at Districts.
"Claire Schmidt went 3 for 3 on best times, cutting 1.82 on 100 breast, 0.15 on 50 free and a huge 6.93 on 200 breast.  She took 11th overall on the 200 breast.
"Adyson Weins also went 3 for 3, cutting 2.19 on 100 breast, 2.76 on 100 free, and 0.48 on 50 free.
"Jordan Vanderhoof had a very solid drop of 2.19 on 100 free.
"Emmy Yeakel took 8th overall on the 100 breast, and had a tremendous 8.58 drop on 100 free."
The team's final meet is this weekend in Columbia, Mo., for those who have qualified.