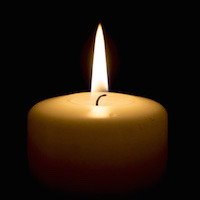 William Joseph "Billy Joe" Moon, 51, of McPherson, Kansas, passed away unexpectedly at 1 a.m., Saturday, July 24, 2021 suddenly at at his home, rural McPherson, Kansas.
Billy Joe was born in McPherson, Kansas, on June 19, 1970, a son of William Homer and Jennifer Jo (Blackburn) Moon.
Billy Joe attended McPherson grade schools, Sulphur Junior High and graduated from Sulphur High School, Sulphur, Oklahoma in 1989.
Through the years Billy Joe worked for John's Manville, CertainTeed Mfg., Fed Ex, Old Dominion Trucking Company and KDOT all of McPherson, Kansas.
Billy Joe enjoyed being a handyman and could fix anything, he loved blues and country music, Billy Joe didn't know a stranger, he loved camping, fishing, cooking on his black stone grill and was a hard worker, he loved helping his friends and even strangers. His dog Snickers was his little buddy, most of all he loved spending time with his friends and family.
William Joseph Moon was united in marriage to Sonya Allen on June 26, 1999, in Florida. This couple established their first home together in McPherson. This union was blessed with two children Savannah and Avery.
He is survived by his loving and devoted wife Sonya Moon, of McPherson, Kansas; his children, Savannah Moon, of McPherson, Kansas and Avery Moon, of Georgetown, Texas; his mother Jennifer Moon, of Sulphur, Oklahoma, and his sister Shawna O'Dell, of Dallas, Texas; other relatives, many nieces and nephews and a host of friends.
Billy Joe was preceded in death by his father William and his sister Debora Freeman
Visitation will be held on Friday, June 30, 2021 from 5 p.m. to 7 p.m. at Glidden – Ediger Funeral Home.
Funeral service will be held on Saturday, June 31, 2021 at 10 a.m. at Revolution Church with Pastor Steve Gray officiating.
Burial will be at the McPherson Cemetery McPherson, Kansas.
Memorials are to the Billy Joe Memorial Fund and they can be sent to Glidden-Ediger Funeral Home; 222 W. Euclid St., McPherson, Ks. 67460.