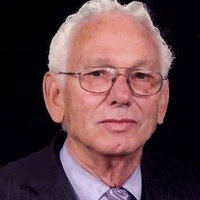 HESSTON — Jacob James Reimer went to be with his Lord and Savior on July 24, 2021, at Schowalter Villa in Hesston, Kansas.
James was born on February 26, 1937, in Corn, Oklahoma to Cornelius J. and Helena (Friesen) Reimer.  He was the youngest of seven children.
James accepted Christ during his teenage years.  He attended the Corn M.B. Church. He attended Grenfield Elementary School and graduated from high school at Corn Bible Academy 1956.
On August 23, 1957 in Hillsboro, Kansas at Hillsboro Mennonite Brethren Church, James and Dorothy Ann Reddig were united in marriage.
In 1959, James and Dorothy welcomed their first child, a daughter named Sheryl Lynn.  The following year a son, Brian Keith was born.  Sandra Lee was born in 1964 and completed their family.
James and Dorothy built a home in Hesston in 1970 where they lived for 50 years.  They worked for the Hesston School District, James in maintenance and Dorothy in food service.  They volunteered a year in 1983-1984 at Camp Arnes in Manitoba Canada.  He worked 33 years for the schools which his children and grandchildren attended. In 1999 James and Dorothy retired from USD 460.
He enjoyed his retirement years traveling, gardening and enjoying coffee with friends at the Hesston Senior Center.
He is preceded in death by his parents, Cornelius J. and Helena (Friesen) Reimer.  Siblings Ervin (Evangeline) Reimer, Elsie (Joe) Buller, Marie (Joe) Penner, Bertha (Arthur) Schmidt, Helen (Harry) Ratzloff, Minnie (Roy) Burton. A daughter Sandy Clayool and a grandson Cory James Reimer.
James is survived by his wife of 63 years, Dorothy, a daughter, Sheryl and her husband Rick Pohlenz, a son, Brian and his wife, Kristi (Jindra) Reimer, a son-in-law Stacy Claypool, six grandchildren and two great-grandchildren and many more family and friends.
Funeral services will be held at 10 a.m., Friday, July 30, 2021, at Hesston MB Church.  Burial will follow at the Hesston City Cemetery. A visitation will be held Thursday, July 29, at Miller-Ott Funeral Home in Hesston from 3 to 7:30 p.m. with family greeting friends from 5:30-7:30 p.m.  Memorial contributions may be made to Hesston Mennonite Brethren Church in care of Miller-Ott Funeral Home, P.O. Box 32, Hesston, KS 67062.