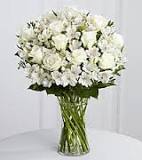 BALDWIN CITY — Marjorie Louise "Marge" Stillings, 94, of Baldwin City, Kansas, passed away at 5:58 p.m., Friday, July 23, 2021 while in the company of family members, at her daughter's home in Baldwin City, Kansas.
Marjorie was born on her parents homestead rural McPherson, Kansas on February 7, 1927, a daughter of Mae Ruth (Siebert) and John Gottleb Schafer.
Marjorie attended the Iola grade school, Iola, Kansas and the McPherson grade schools and graduated from McPherson High School, McPherson, Kansas. Following graduation Marjorie worked for Farmers Alliance Insurance Agency in the filing department and McPherson Hospital as a nurse's aide.
She was a member of First United Methodist Church McPherson, Kansas where she was Baptized and Confirmed.
Marjorie Lousie Schafer was united in marriage to Joe Stillings on February 11, 1949 at the Naval Station Chapel, Key West, Florida. The young couple established their first home together in Key West, Florida. After Joe's honorable discharge from the Navy, they moved to McPherson, Kansas. This union was blessed with the birth of seven children, four sons and three daughters, Floyd, Sharon, Donald, Kenneth, Cheryl, Mary and Gary.
Through the years Marjorie was a homemaker and she took great pride in providing for her family in this manner. After the children were on their own, she went back to work and worked for Bader Cleaners, worked in the Nazarene Church Nursery, and did some private childcare.
Marjorie was a beloved mother, was the most patient, kind, loving mother ever. She always cared for others first and herself last. Where ever mom was, was home to her children, who will miss her loving eyes, smiles, and hugs full of love. Marjorie enjoyed children, animals, cooking, gardening, sewing and spending time with her family.
She is survived by her children, Floyd Stillings, of Colorado Springs, Colorado, Sharon Peterson and husband Gary, of Baldwin City, Kansas, Donald Stillings and wife Cathy, of Hutchinson, Kansas, Kenneth Stillings, of Austin, Texas, Cheryl Rickerson, of Ottawa, Kansas, Mary Bailey, of Neosho Falls, Kansas, and Gary Stillings, of Rantoul, Kansas; an adopted daughter, Ruth White, of Wichita, Kansas; eight grandchildren, Joshua Peterson, Jason Peterson (Dawn), Jennifer Stillings, Kaleb Stillings, Hayley Walton (Danny), Rheannah Gonzalez (Andrew), Kindra Frye, and Michelle Vorhees (Jerry); 17 beloved great-grandchildren; many nieces and nephews, other relatives and a host of friends.
Marjorie was preceded in death by her parents, her husband Joe, her brothers, Johnny and Donald Schafer and sisters, Rosemond Brown, Dorothy Garrett, and Kathryn Anderson; two grandchildren, Johnny Frye and Dana Stillings; and two son-in-law's, Art Rickerson and John Bailey.
Graveside Service will be held at McPherson Cemetery, McPherson, Kansas, at 2:30 p.m. on Friday, July 30, 2021, with Reverend Chris Whitacre officiating.
In lieu of flowers, memorial contributions may be made to Douglas County Visiting Nurses and they can be sent in care of the Glidden – Ediger Funeral Home; 222 West Euclid Street; McPherson, Kansas 67460.