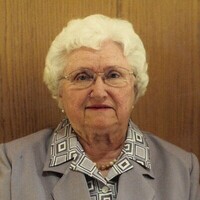 BUHLER  — Bernice Arlene Doerksen, 94, passed away Friday, July 30, 2021, at Hospice House in Hutchinson. She was born at the family home at Pretty Prairie, Kansas, October 1, 1926 to Edward D. and Lorene (Schwartz) Goering.
She attended Pretty Prairie schools graduating in 1944. Wanting to be a nurse but not having the finances to go into training, she accepted an aunt and uncle's invitation to move to Wichita with them and worked as a checker at Dillon's. After 4 years she moved to Newton to help an uncle at his jewelry store. Later she moved to Hutchinson to be a bookkeeper for American National Bank.
On March 10, 1953, Arlene married the love of her life Marvin Doerksen.
Arlene was a member of the Inman Mennonite Church and enjoyed the Women's Mission Society and Sewing Circle. She also served as a Sunday School and midweek Bible School teacher.
Arlene loved being a homemaker and was an excellent seamstress, housekeeper, gardener and cook. She prepared and served many dinners for speakers and guests of their church. She enjoyed reading, playing games and being with family.
She also worked at Eddie's Bake and Serve and Pleasant View Home in Inman, to help her daughters with their school expenses.
After Marvin's passing she sold their home and moved to the Mennonite Manor in South Hutchinson, and then moved to Sunshine Meadows Retirement Community in Buhler, to be closer to family.
Survivors include daughters, Marilyn Daniels and Norma Doerksen; granddaughter, Melissa Daniels; brothers-in-law, Jerry Cline and James Morrison; and many nieces and nephews.
Preceding her in death were her husband; parents; granddaughter Kristi Daniels; brothers, Wilbur and Willis Goering; and sisters, Avis Morrison and Lois Cline.
Funeral service will be Wednesday, 10 a.m., August 4, 2021, at Inman Mennonite Church, with burial to follow at North Inman Cemetery.  The service can be viewed online at www.inmanmennonite.com.  Friends may pay their respects to Arlene, Tuesday, August 3, 2021, 2 to 3:30 p.m., with family present 5:30 p.m. to 7:30 p.m. at Buhler Mortuary.
In lieu of flowers memorials may be made to Inman Mennonite Church or Mennonite Disaster Service, in care of Buhler Mortuary, P.O. Box 589, Buhler, KS 67522.