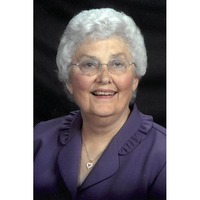 MOUNDRIDGE — Marjorie R. (Goering) Stucky was born to Jonathan J. and Katie E. (Zerger) Goering on April 17, 1929 at the McPherson County Hospital, McPherson, Kansas.  She grew up on a farm ½ mile east of the Eden Church.  She was number 9 in a family of 12 – 4 girls and 8 boys – all of them living to adulthood.  She died on Saturday, August 28, 2021 in Moundridge, Kansas.
After attending Pioneer Grade School for eight years, she graduated from Moundridge High School in 1947, and then went to Bethel College for one year and taught grades 1 – 4 at King City Grade School in Elyria for one year.
Marjorie was baptized in 1945 and joined Eden Mennonite Church, where she was a member all her life and was very involved with various church activities and roles.  She married Marvin Stucky on June 13, 1948, and they made their home in Elyria, where Marvin worked at C.D. Kaufman's Service Station.  After the Mid-Kansas Coop bought the station, he worked for them for 35 years.  After Marvin retired in 1987, they spent the school year at AMBS in Elkhart, Indiana, doing volunteer work at the seminary.  In 1988, they built a duplex in Pine Village and retired there doing many volunteer jobs, such as yard work and painting homes and rooms when they changed residents.
Four children were born to them: Marvetta, Murray, Max and Morris. They all attended Elyria Grade School and graduated from Moundridge High School.  Marvetta went to Beauty School and the boys all graduated from various colleges.  They bought an RV and traveled to many states in the U.S. and visited with Reuben Goerings in Phoenix and Harvey Goerings in Columbus, Ohio, and many other places.
Marjorie's hobbies were sewing and piecing quilts, which her mother taught her at an early age.  She also loved to quilt, and hurried home from school when her mother had a quilting, so she could put some stiches into the quilt.
For several years, she cleaned the Elyria Grade School and then worked at the Eden Church Office for thirteen years.  She was Pastor Walt Neufeld's church office secretary.
After her grandchildren were born, she spent several days taking care of them.  There were nine grandchildren and four great-grandchildren that needed care at various times.  One grandson, Ben, had a Willms tumor removed (and also a kidney) when he was 14 months old.  Their first granddaughter, Natalie, died during heart surgery at seven months of age.
Survivors include her children, Marvetta and Shelly Sperling; Andy, Jackie, Kate and Evan Sperling; Micah, Stephanie, Jacob and Hailey Sperling; Murray, Melody, and Michael Stucky; Max, Lynda, Ben, and Madeleine, Abe and Sam Stucky; and Morris, Diana, Grant and Hope Stucky; and brother, Marlo and Ruby Goering.
She was preceded in death by her husband, Marvin; granddaughter, Natalie Stucky; parents, Jonas and Katie Goering; sisters, Meta Juhnke, Mary Ann Preheim, and Laura Krehbiel; brothers, Elmer, Harvey, Phil, Reuben, Emil, and Don Goering; and many other relatives and friends.
Graveside services will be held at 10:00 a.m., Saturday, September 18, 2021 at Eden Mennonite Church Cemetery, followed by a celebration of life service at 11:00 a.m., at the church.  Family will greet friends from 6:30 to 8 p.m., Friday, September 17, at Moundridge Funeral Home.  Memorial contributions may be made to Eden Mennonite Church in care of Moundridge Funeral Home, PO Box 410, Moundridge, Kansas 67107.