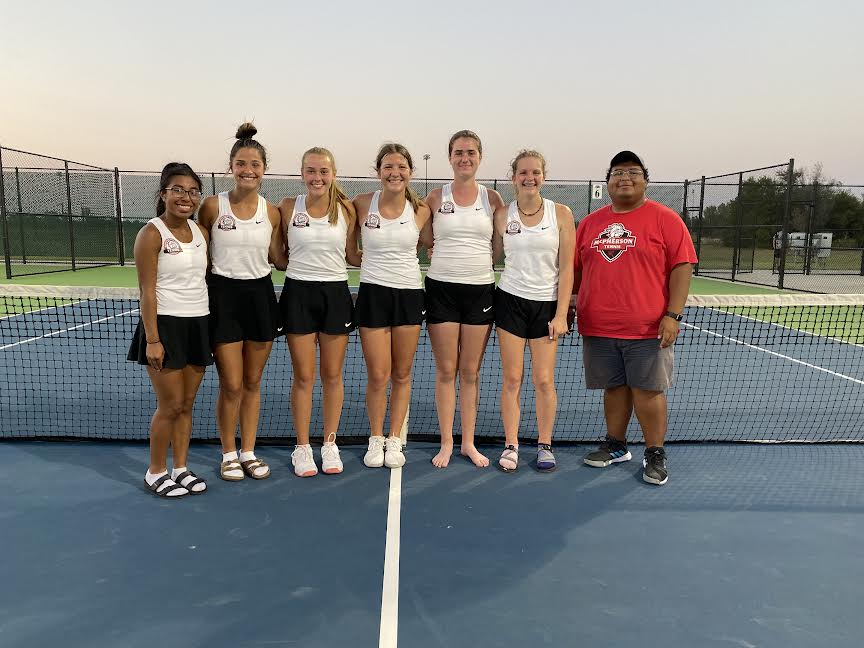 HAYSVILLE – McPherson High's girls tennis team, which faces a loaded schedule this week, took a mix of varsity and junior varsity players to Monday's Campus Invitational and still came away with a tie for first place in a varsity meet.
MHS, Wichita Collegiate and Hutchinson all scored 25 points. Derby was next with 15, while rounding out the order were Campus (10), Wichita Heights (7), Hutchinson No. 2 (7) and Arkansas City (4).
MHS' Patty Huerta and Perrin Schneider went 3-0 to win the No. 1 doubles division, while Paige Stucky and Taiya Young were 2-1 for second at No. 2.
Kennedy Tully, also moving up to varsity for this meet, was 2-1 for second at No. 2 singles and Taylor Berger was 2-1 for third at No. 1 singles as the Bullpups made the semis in all divisions.
Here are assistant coach Ricardo Sanchez's thoughts:
"We took a combined varsity/JV group to the Campus Varsity Tournament and to come out tied for first place says a lot about our depth. Taylor had a tough matchup in the semis against the eventual champion, losing a 6-8 tiebreaker. She bounced back in the third-place match to ensure we had enough team points for the tie.
"Kennedy continues to impress on the singles court. She hits a very solid ball and is starting to develop better anticipation on the court. Regardless of who she is playing, I know I can count on Kennedy to leave everything on the court.
"Patty and Perrin continued their impressive play. They battled the wind early on, but were able to make adjustments. These two are always so much fun to watch, as they have a lot of energy out on the court.
"Paige and Taiya played together for the first time and didn't disappoint. They were able to reach the final by really complimenting each other's playing style. They ran into a previous state-qualifying team in the championship match that was just a bit more experienced than them. I know they'll learn from this match as they continue their season."