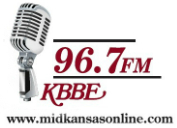 96.7 KBBE-FM will be airing the McPherson USD 418 School Board Forum at 7:00 tonight from KMU, 2090 East Kansas Ave.
The Civic Awareness Committee of the McPherson Chamber of Commerce is hosting the forum. This is an opportunity for the community to hear directly from the candidates about important issues.
All BOE candidates have been invited to participate.
The format will be question-and-answer as opposed to debate. Attendees will have the opportunity upon arrival and during the forum to submit questions for the candidates. All questions from the audience will be screened for duplication, legibility, and suitability for all candidates. The candidates will draw numbers to determine who will speak first. All candidates will have the opportunity for a 3-minute opening statement. Candidates will then address the submitted questions, taking turns on answering first.
The forum will also be available on the McPherson Chamber of Commerce Facebook page. Questions will not be monitored on Facebook during the forum, so please contact the candidates directly, to have your questions answered prior to election day.